After having been stabbed 13 times, K9 Officer Hunter was saved by his handlers and tactical medics who had previously gone through hands-on veterinary medical training thanks to K9 Medic and Viticus Group.
On October 26, 2019, at around 5:45 am, K9 Officer Hunter was doing what makes him the happiest—helping SWAT and his handler take down bad guys. They had been called to the scene when a man armed with a knife climbed to a roof and refused to come down. Officer Hunter bravely apprehended the perpetrator, but not before the man stabbed Hunter 13 times in the throat.
Hunter's handlers and tactical medics on the scene were able to minimize the bleeding and stabilize him before rushing him to the emergency veterinary clinic. Luckily, the blade had hit Hunter's collar at some point during the conflict, breaking off the tip of the knife. This prevented the knife from doing worse damage, as it was more difficult to break the skin.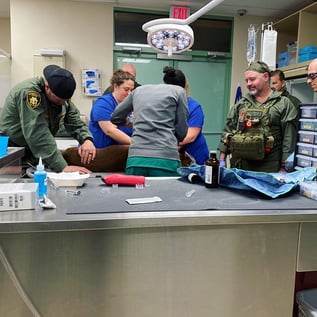 Photo: from @lvmpdk9 on Instagram
Hunter not only survived this incident, but he was able to return to the line of duty just months afterward. Though Hunter was badly injured, his caretakers on the scene were confident that he would recover. Why? Because the people working with Hunter on the scene were trained in veterinary critical care and were confident in their ability to save him.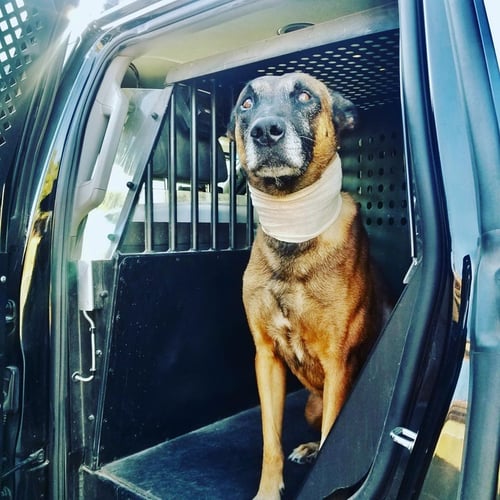 Photo: from @lvmpdk9 on Instagram
Hands-on Veterinary Training Can Mean Life or Death
Stories like Officer Hunter's are simply awe-inspiring. These incredibly athletic and loyal animals like Hunter (a Belgian Malinois) are trained so well and have such a strong bond with their handlers that they protect their fellow officers at all costs. K9 units across the country put themselves in harm's way to protect our communities.
Stories like Hunter's also highlight an important reality—if the tactical medics and officers on the scene didn't have the veterinary critical care training they had gone through beforehand, the sad likelihood is that Hunter could have passed away. For Hunter, veterinary medical training meant life or death.
In the world of K9 units, continuing veterinary education isn't just for emergency veterinary professionals.
K9 Medic and Viticus Group
K9 Medic is an organization whose mission is to ensure that "every working K9 [has] the equivalent medical, rescue, and evacuation resources available to them as their human counterparts." They provide educational programming to K9 handlers, medics, tactical medics, and other support people to give them the medical skills needed to serve K9 officers in the field of duty.
K9 Medic has teamed up with Viticus Group to host hands-on veterinary medical training for Las Vegas–area law enforcement officers and human health practitioners who work with K9s. They go through on-site training that is as true to life as possible to make K9 officers safer in their work environment.
The partnership is so effective that Jo-Anne Brenner, the executive director and founder of K9 Medic, says, "We could not do our mission without Viticus Group." Over the last decade, hundreds of K9 Medic participants have gone through training at the Viticus Center campus. Brenner continues, "We can provide the supplies, and we do that, but the training is the glue that makes everything possible."
Hearing the feedback from handlers, human medical practitioners, and veterinary professionals who work with K9s about how they can save dogs' lives thanks to previous training events is beyond rewarding. You can directly see the impact that hands-on veterinary training has on the lives of working dogs.
Hunter Goes to the WVC Annual Conference
To showcase not only what K9 units do for us every day but also to demonstrate the effects of good veterinary training, we had Hunter stop by the WVC Annual Conference this past February to say hi!
As you can imagine, he stole the show. Hunter and his handler demonstrated how Hunter helps the team apprehend suspects, his handler playing the part of "the bad guy." Hunter quickly gained control of the situation, tackling the "suspect" and containing him until the authorities recovered the money he had "stolen" and had him in custody.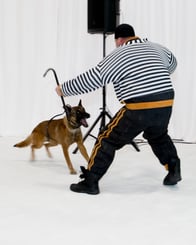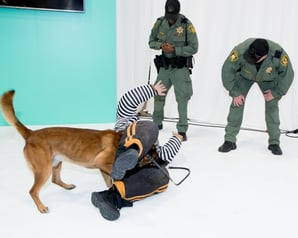 This demonstration took place about 4 months after Hunter's injury. In such a short amount of time, Hunter is back to doing what he loves. Happy and healthy, thanks to those few who knew what to do in a K9 medical emergency.
Hands-on Training for the Benefit of all Animals
K9 care is a great example of how hands-on training and continuing education saves lives, and working canines' needs deserve more awareness. But they're just one piece of the pie. Think of all the animal lives that are saved or the quality of life improved because the people caring for them had training and experience that was current and relevant to real-life situations.
This kind of training isn't a guarantee that every critically injured animal will survive, of course. But the assurance that the responder did all he or she could and felt prepared for the situation increases the chances of survival and provides comfort if the worst should happen.
Hands-on training played an important role in saving the life of K9 Officer Hunter. May we all seek to stay current in our education and applicable skills to help save the lives of working animals and companion animals everywhere.
Learn More!
Subscribe to our YouTube channel or check out our Resource Library full of great podcasts, videos, and digital downloads!
Disclaimer
Content may contain advertising and sponsorships. Advertisers and sponsors are responsible for ensuring that material submitted for inclusion is accurate and complies with applicable laws. We are not responsible for the illegality of any error, inaccuracy, or problem in the advertiser's or sponsor's materials.
Advertising material and/or opinions are not are not a reflection on Viticus Group.