Horses have a unique gift of intuitively helping people heal and reconnect with their purpose in life.
David Andrews returned from his last combat tour in Afghanistan badly wounded in action, Purple Heart in hand, struggling to recover from his injuries and adjust to civilian life as a permanently disabled person. Unsure of his purpose in life, he turned to an unlikely source of peace and direction—equine-assisted therapy at the Remount Foundation.
"Our flagship program is equine-assisted learning (EAL), which is an intensive program designed to help participants take ownership of their healing, learn to reconnect with their families and provide them with the resilience tools to successfully reintegrate into society."

– Remount Foundation website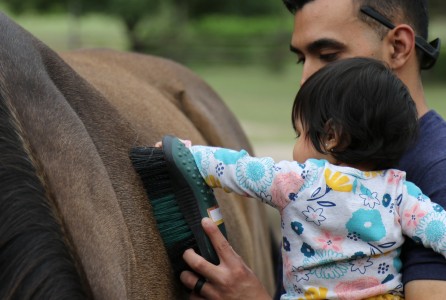 Through equine-assisted learning, wounded veterans and family members are given tools to help them conquer overwhelming adversity—from TBI (traumatic brain injury), PTSD, and suicidal thoughts to conditions like autism, depression, anxiety, anger, guilt, and past abuse.
Andrews recounts stories of being at the equine center on base and seeing an individual stumbling around the stables, clearly unable to escape their wartime experiences and the combat mindset. Approaching them and having a short conversation with them, Andrews remembers the happiness and hope that both parties felt as he was able to tell them, "I've been there, and it'll get better."
"We guide these warriors, these heroes and their families, to healing, hope, and purpose—that's what it's about."

– Dr. David Andrews
Overcoming Struggles with Suicide
In the veterinary industry, we've recently focused more efforts on helping veterinary professionals overcome thoughts or intentions of suicide, as the suicide rates in the industry are significantly higher than the general population. As you can imagine, the military knows a thing or two about struggling with suicide.
For over a decade, over 20 veterans die by suicide every day. That means that during those 3,650 days, around 73,000 veterans have committed suicide. Around 50% of participants at the Remount Foundation admit to suicidal ideation, intention, or attempts before starting the program.
Seeing combat, becoming disabled, then being expected to transition to "normal" life is something the rest of us will most likely never understand.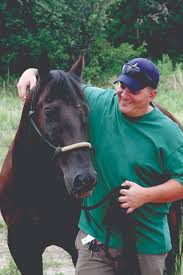 That's why equine-assisted therapy is so miraculous in the hope and foundation it gives for healing. It's never easy, but those who struggle can take ownership of their healing and come out of it with purpose and resilience.
Hope and Resilience for the Veterinary Community
The same goes for veterinary professionals, says Dr. Andrews. Many veterans find renewed purpose when they're serving others (or caring for a horse). They realize they are part of a greater community and culture that needs them, and it gives them the courage it takes to keep going.
Cultivating a close-knit and loyal community among veterinary professionals is easier said than done, but that is going to be a big factor in helping the industry cope with the anxiety and depression that sometimes leads to suicide. Intentionally creating a culture that values wellness, connection, and commitment to purpose is one that can be lifesaving.
"Your purpose isn't to die by your own hand. Your purpose is to help others. That's why you came into this profession."

- Dr. David Andrews
David's Achievements since the Remount Foundation
Dr. Andrews is a living testament of what programs like at the Remount Foundation do for wounded veterans. After going through equine-assisted learning himself, he was hired as an Intelligence Officer by a national intelligence agency, where he served in multiple sensitive positions at the Join Staff (Pentagon) and Combatant Command levels.
Andrews received a Doctorate in Management (DM), with his dissertation being a qualitative study on leadership for WWs: How combat trauma serves as a transformative event in Wounded Warriors' leadership development. He later served as an adjunct faculty member for a national intelligence agency, teaching organizational leadership and strategy to senior intelligence officers.
He's received several post-military awards for his work in organizational resilience and Wounded Warrior issues, including the 2015 Secretary of Defense's Outstanding Department of Defense Civilian Employee with a Disability Award. He's gotten personal award coins from the US President, Secretaries of Defense and Veterans' Affairs, the Chairman of the Joint Chiefs of Staff (twice), and the Vice Chairman of the Joint Chiefs of Staff.
Whew! And that's just the summary.
People that face adversity and then overcome it are some of the most driven and purposeful people you'll ever meet. Even the Remount Foundation's mascot, the "Bird," knows how satisfying it feels to succeed amidst seemingly insurmountable obstacles.
They inspire me to be resilient through my times of adversity because there truly is a light at the end of the tunnel.
Learn More!
Subscribe to our YouTube channel or check out our Resource Library full of great podcasts, videos, and digital downloads!
Disclaimer
Content may contain advertising and sponsorships. Advertisers and sponsors are responsible for ensuring that material submitted for inclusion is accurate and complies with applicable laws. We are not responsible for the illegality of any error, inaccuracy, or problem in the advertiser's or sponsor's materials.
Advertising material and/or opinions are not a reflection on Viticus Group.