While the COVID-19 pandemic has dramatically changed the way veterinarians interact with patients and pet parents, it hasn't seemed to slow the need for diagnostics—especially teleradiology.
Teleradiology brings a specialist (radiologist, cardiologist, neurologist, dentist, and others) into your practice—in person or through technology—to give expert evaluation of various imaging modalities. Specialists partner with general practitioners to aid in the diagnosis and suggest further diagnostics and procedures. This helps us provide the very best patient care.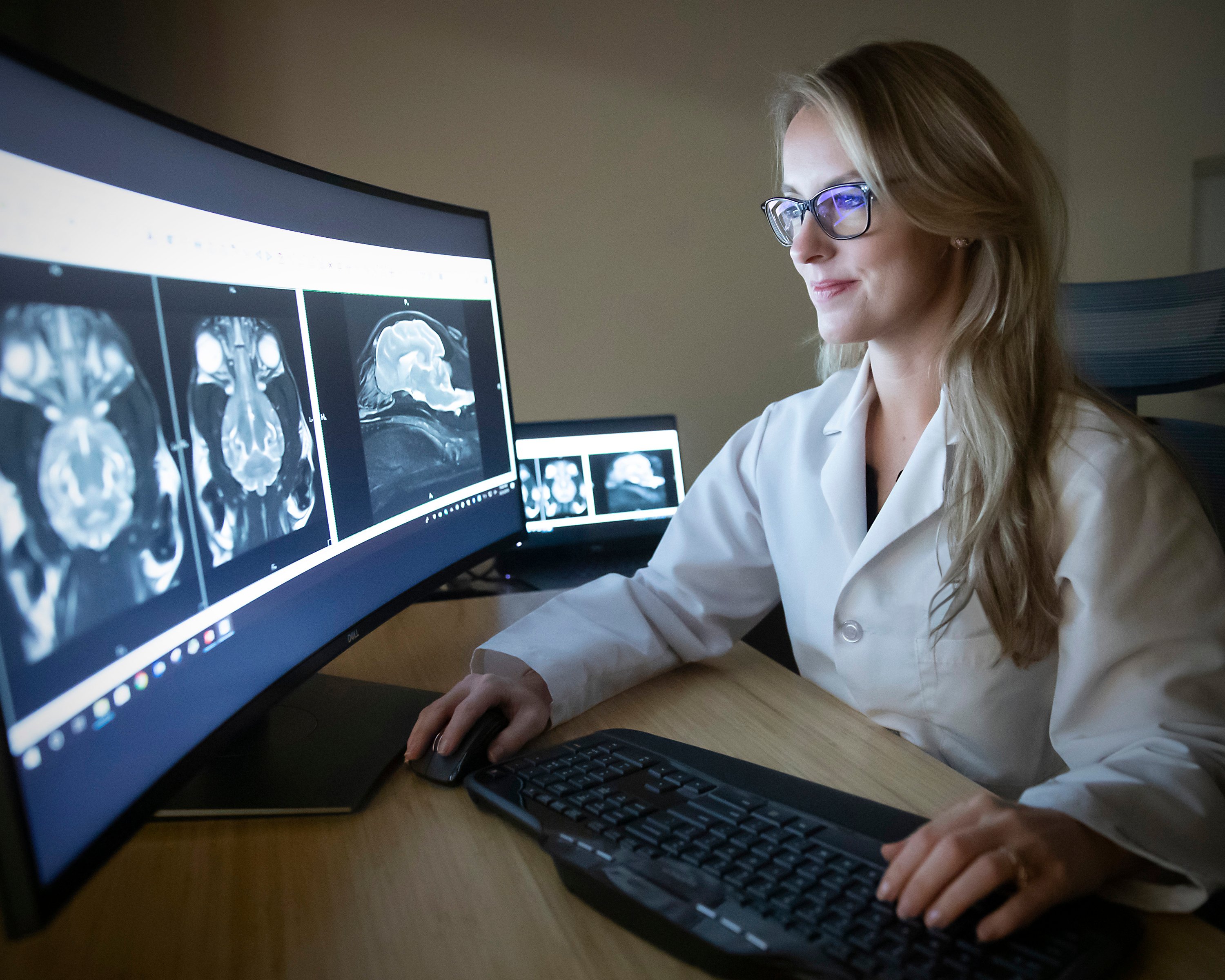 Why Do Veterinarians Use Teleradiology?
Many veterinarians send out radiographs to be "overread" by a radiologist only on occasion, when they second-guess themselves as to what they think they see or to rule out something in their differential diagnosis. After all, veterinarians are trained in radiology and would expect to read their own x-rays.
Some veterinarians send out every radiograph taken in their hospital. Why? Studies in human medicine estimate the error rate for radiological diagnosis can be up to 20%. This is in a field where they can ask the patient to be still, take a deep breath, and hold it. We know that a second set of eyes, especially a board-certified specialist, can improve the diagnostic yield considerably.
Board-certified specialists can help you know what to do next, suggest another imaging modality to better evaluate the problem (e.g. ultrasound), improve the overall patient care, as well as improve the practice health by offering additional procedures and services. Having a board-certified specialist report to discuss with the pet owner has shown to improve client compliance when suggesting additional tests or services.
Successful Teleradiology Is a Team Effort
Getting an accurate radiology report is a TEAM effort. The American Animal Hospital Association (AAHA) states that general practitioners working together with specialists ensures optimal patient care.
What your team does before and after consulting a radiology specialist influences the success of the diagnosis. What is extremely helpful to the radiologist is a complete and accurate history; inclusion of previous films (if any); and properly exposed, well-positioned films with the organ or region of interest.
In reflecting on how your practice utilizes radiology, it's good to ask yourself a few questions:
Are all of my films of diagnostic quality?

Is our positioning and radiographic technique appropriate for best diagnosis?

Am I getting the most out of my ultrasound machine?

Is radiology underutilized in our practice?

Are you only focusing on the area of interest when viewing a radiograph, or might there be other pathology outside of that area?

Have you taken advantage of training to maximize the use of your ultrasound equipment?

Are your veterinary technicians taking "safe" radiographs?
In most urban environments, there seems to be a small animal practice on every other corner. Are you using teleradiology to its fullest advantage compared to your competitors? How important or involved are specialists in your hospital, utilizing teleradiology options during the COVID-19 pandemic if necessary?

Improving Imaging Skills
Providing optimal care is inseparable with continuing education. Staying up to date in your technique and equipment is essential for excellence. Imaging courses through WVC Academy at the Viticus Center can give your veterinary team a boost in their imaging skills and care.
Learn More!
Subscribe to our YouTube channel or check out our Resource Library full of great podcasts, videos, and digital downloads!
Disclaimer
Content may contain advertising and sponsorships. Advertisers and sponsors are responsible for ensuring that material submitted for inclusion is accurate and complies with applicable laws. We are not responsible for the illegality of any error, inaccuracy, or problem in the advertiser's or sponsor's materials.
Advertising material and/or opinions are not a reflection on Viticus Group.