As veterinary professionals, you are part of the global team of public health officers who must stay updated with accurate information and contribute to making your community a safer place.
These days, news updates, cancelations, and misinformation spread and change every hour concerning COVID-19. We wanted to give you a reliable source to turn to for information. Dr. Natalie Marks and the team at the Quick Cup of Knowledge series reached out to epidemiologist Dr. Jason Stull for his thoughts about the pandemic and how veterinary practices can be part of the solution.
During this time of widespread concern, epidemiologists find themselves in a dual position. They view the COVID-19 situation both as a scientist would—an object of study—and as any person would—a potential threat to our healthcare system and economic health.
Dr. Stull says that they're aware of the science, but there's a cultural component that is very personal, too. The lack of reliable data or timeline makes it even more important as veterinary professionals to be the dependable public health officers that your community needs during this time.
The Dog Who Tested Weak Positive for COVID-19
The coronaviruses that veterinary professionals have regularly dealt with are those that lead to conditions such as respiratory diseases and Feline Infectious Peritonitis. Evidence suggests that this novel COVID-19 virus originated from animals, similar to other coronavirus strains.
In China, health officials took the precaution of quarantining and testing dogs as well as humans for the virus. One dog had an owner infected with the virus, and this dog was quarantined and PCR tested. The dog repeatedly tested "weak" positive for COVID-19 from oral cavity swab samples.
While the tests suggest that the dog was infected at some level without noticeable symptoms, it is still unclear if the dog was infectious. Sadly, this dog passed away after two days of being released from quarantine.
We would naturally wonder, then, if COVID-19 can be transmitted through or by animals. Can animals spread the disease? Can they transmit it in their fur?
Unfortunately, the simple answer is that we don't know yet. There's a lack of evidence that animals are transmitting the virus. A lack of evidence could mean almost anything, so veterinary professionals should do their part to take precautions and protect the health of all employees, clients, and patients.
Precautions against COVID-19 in Veterinary Practices
With all that said, veterinary teams need to be cautious at veterinary practices. In addition to the standard procedures of frequent disinfecting and hand washing, controlling the number of patients and clients in the office or even curbside pickups may soon become necessary options.
Flattening the Curve
I'm sure you've heard the phrase "flattening the curve" often in the last few weeks, and it'll continue to be an important concept in controlling the spread of COVID-19. This mostly refers to the strategic effort to minimize the burden on our hospitals and healthcare system.
If we just let the disease run its course, transmission and the number of cases will skyrocket in a short amount of time. The curve would be exponential, creating an overwhelming load on the healthcare system and the number of people available to serve the community.
To prevent this potential problem, the one thing we have some control over is how many contacts with people we have. If we limit our contact with others (social distancing, quarantine), we can control and reduce the speed at which this virus moves through the population. This will keep the number of cases at one time under the threshold of available hospital beds and other healthcare resources.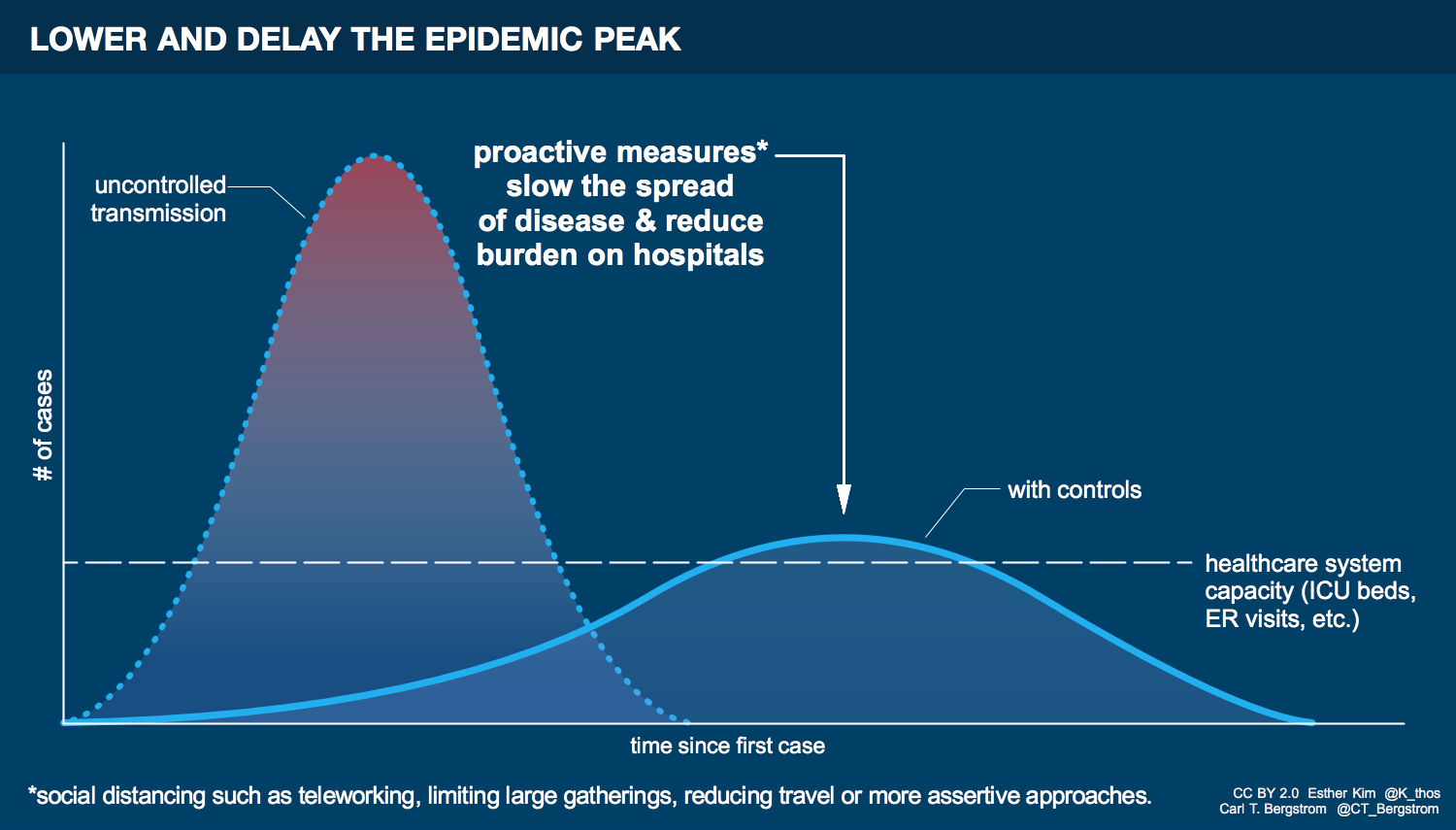 Be an Informed Public Health Official
Perhaps the most important role of veterinary professionals during this time is to be educators of the public. Dr. Stull reminds us that the responses and behavior of the virus in one region can be vastly different in another region. It's important to gather information from your local officials to determine the best precautions moving forward.
The global OneHealth initiative is a vital effort, among many things, to help detect or even prevent future epidemics of this kind. The current viral outbreak is a perfect example of how veterinary, human, and environmental health professionals can come together to help inform people and monitor the status of the situation to make smart decisions.
What Lessons Can We Learn from COVID-19?
Now is also a great opportunity to reflect on what COVID-19 can teach us. It has served as a kind of wake-up call for healthcare professionals to assess how to be better prepared for situations like these in the future.
COVID-19 Lesson 1
The first lesson Dr. Stull mentions is for veterinary professionals to be aware of how illnesses spread across animal or human populations. COVID-19 is not the first or the last viral outbreak, and as mentioned before, many of these strains of viruses start in animal populations.
COVID-19 Lesson 2
The second lesson (and maybe the more important lesson) is to have plans and supplies prepared for future pandemic situations. Ask yourself and your practice, "What are the things I wish we had planned for?"
When we have protocols for client screening, social distancing, and emergency preparedness in place, we can be even more effective in our benefit to the community. We can, in some circumstances, contribute our stockpiles of supplies to human healthcare systems that need it.
Resources for COVID-19 in Veterinary Medicine
If you're looking for more information or want to know where to go to get updates on COVID-19, the AVMA website is a great resource for veterinary professionals. The Center for Disease Control and Prevention also has a page about animals and COVID-19.
Make sure to check out your local public health department pages, as regionally specific information may be more relevant to you and your practice.
Conclusion
Veterinary professionals can be part of the solution, part of the education that contributes to a more positive outcome. We'll get to the other end of this trying time, but we challenge you to think about how you and your team can proceed in a safe way as practices open back up fully, life returns to somewhat normal, and we continue to plan for the worst and hope for the best.
Stay safe, healthy, and PAWsitive!
Learn More!
Browse upcoming CE courses in a wide variety of topics on our WVC Academy page.
Subscribe to our YouTube channel or check out our Resource Library full of great podcasts, videos, and digital downloads!
Disclaimer
Content may contain advertising and sponsorships. Advertisers and sponsors are responsible for ensuring that material submitted for inclusion is accurate and complies with applicable laws. We are not responsible for the illegality of any error, inaccuracy, or problem in the advertiser's or sponsor's materials.
Advertising material and/or opinions are not are not a reflection on Viticus Group.