When it comes to learning surgical techniques, hands-on experience is the way to go. When that's not possible (during a pandemic), watching another doctor perform live is the next best thing.
Dr. Shawn Tsuda and Dr. Heidi Ryan stood at the operating table, ready to begin their demonstration of several abdominal surgeries for a CME session.
This time was a little different, though, because participants were either in an auditorium next door or in their own homes, watching from a distance with their questions ready.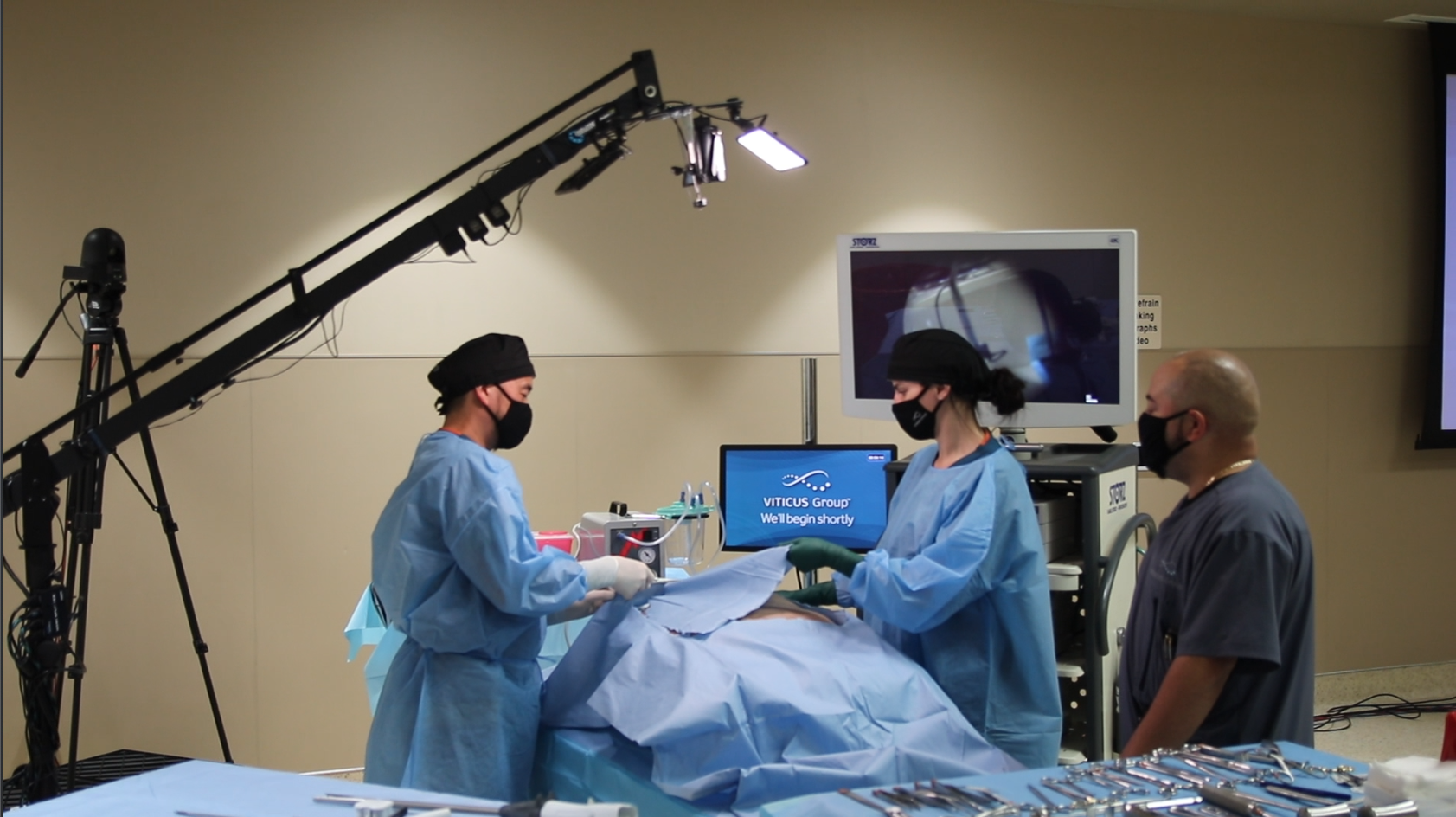 We Still Need Hands-on, Interactive Surgical Training
The COVID-19 pandemic has taught us that we can go without a lot of things, but clinical CME for our surgeons isn't one of them. Learning new surgical techniques outside of a real-life environment where you can't practice the technique yourself or ask questions isn't going to build confidence in performing the procedure after the training.
During a time of public health concern with traveling and going to CME training in person, we need a solution that allows for more than online diagrams and videos. We need a level of interactivity between the instructor and the participant.
That's where live-stream surgical training comes in.
How It Works
Scott and Nick with Live Stream Las Vegas came into the Oquendo Campus of the Viticus Center, set up their equipment, streamed the live session with Drs. Tsuda and Ryan, and then handed over a thumb drive with the recorded session on it. It was that simple.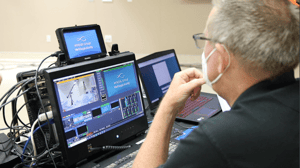 They had a set-up of 4 cameras that Scott controlled from his work station—panning, zooming, and switching between views in real-time to capture the action. Dr. Tsuda even called out some of the camera shots he wanted, knowing what was going to be important for his audience to see.
Participants sent in questions through a chat feature, which Dr. Tsuda answered live while performing the surgery.
See the whole training for yourself below (the session begins at around the 6:18 mark).
Live Training vs. Pre-recorded CE
Live CME training, according to Scott, has a distinct advantage over pre-recorded training sessions because the experience for all parties is more authentic and interactive. It gives a sense of added credibility to know that the instructor is performing and speaking just as he or she would if the event were in person, that they aren't just using a script.
I quite agree with Scott. We've all seen training meetings that are pre-recorded and therefore not personal or interactive, which negatively affects our interest in the content and the likelihood that the training will do any good for us.
With live streaming, you get all the benefits of live training with the professionalism of high-quality production where participants can choose to come to the facility or receive the training from home.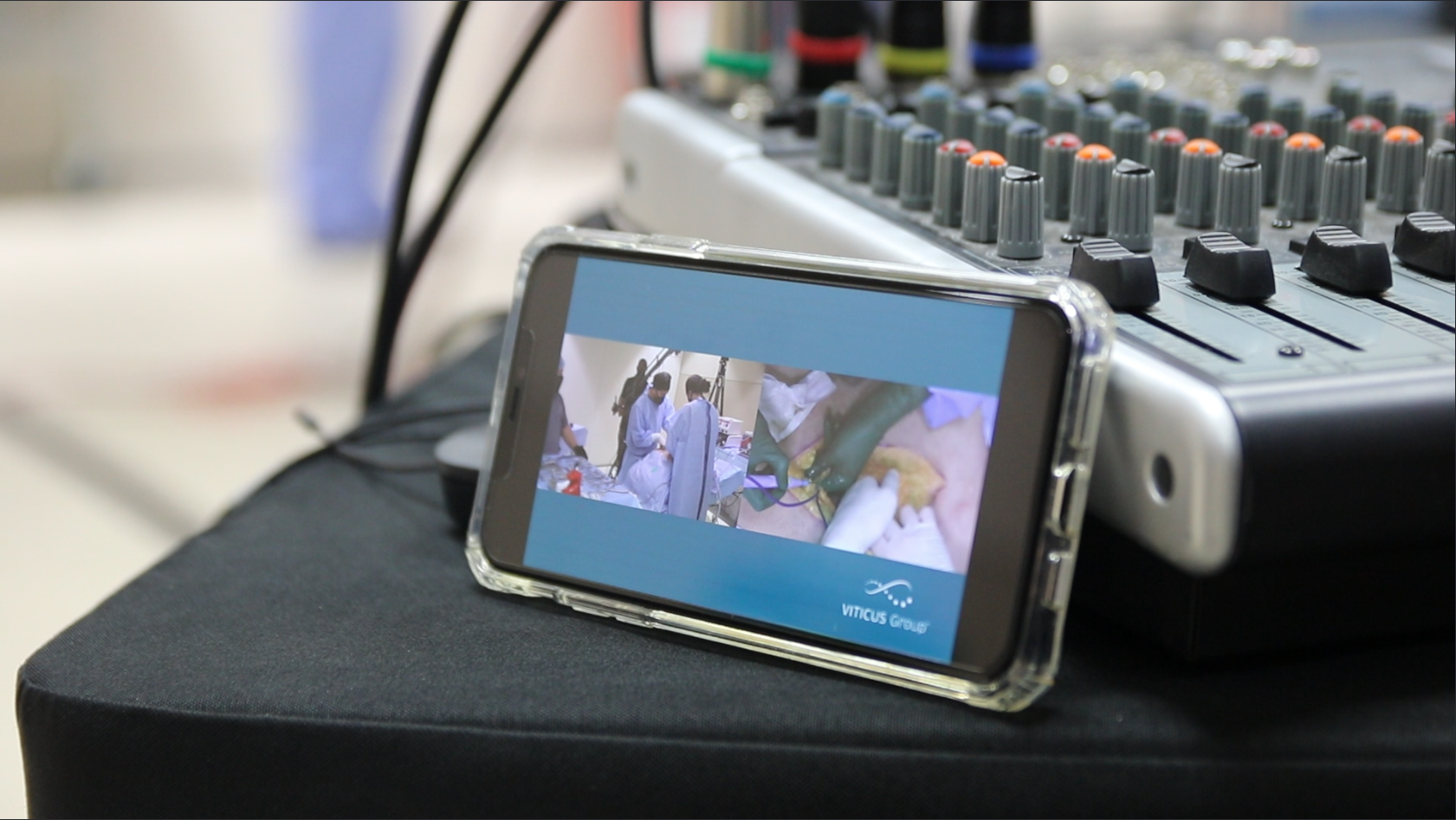 Changing the Surgical Plan on the Fly
Speaking of authenticity, this particular session and tissue specimen tested the ability of Drs. Tsuda and Ryan to think on their feet, demonstrating the similarity between these kinds of live streaming services and an in-person training.
After diving into the first surgery, which happened to be gall bladder surgery, the surgeons found that the colon was almost completely adhered to and wrapped around the gall bladder. Dr. Ryan expertly worked on separating them to reach the gall bladder, but they found this to be a severe and difficult case.
Both doctors had to adjust their position and techniques more than once before deciding to change the surgical plan and perform an open surgery (as opposed to the minimally invasive robotic surgery they were doing) later on in the session. Unexpected circumstances happen in the real world, and so they do with live surgical training.
Learn More!
Subscribe to our YouTube channel or check out our Resource Library full of great podcasts, videos, and digital downloads!
Disclaimer
Content may contain advertising and sponsorships. Advertisers and sponsors are responsible for ensuring that material submitted for inclusion is accurate and complies with applicable laws. We are not responsible for the illegality of any error, inaccuracy, or problem in the advertiser's or sponsor's materials.
Advertising material and/or opinions are not a reflection on Viticus Group.