At their most recent annual event, the outgoing president of the Society of American Gastrointestinal and Endoscopic Surgeons (SAGES), Dr. Linda Feldman, announced the upcoming organization initiatives designed to modernize surgical education and improve patient outcomes.
The initiatives include efforts to gather more surgical data to test artificial intelligence–based models that will assess safety in real time. Other initiatives involve programs and resources that improve surgical training, including how to offer pain management with reduced opioid use. They also address access to care and diversity in the medical field.
Here are six SAGES initiatives that will be available to surgeons within the next year: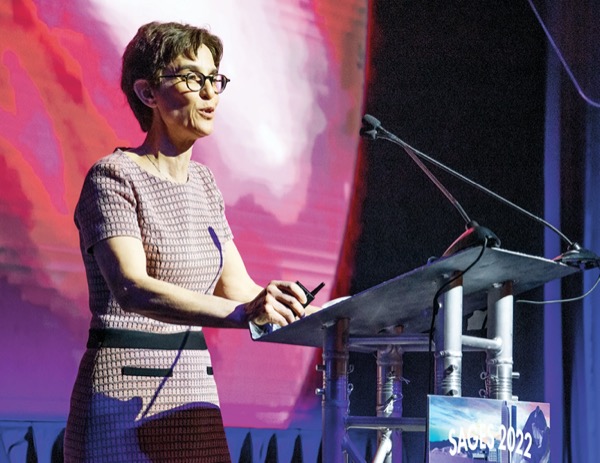 Dr. Liane Feldman delivers her presidential address at the 2022 annual meeting of SAGES.
1. CVS Challenge - Testing AI Models
Companies and academic groups have already created AI models for laparoscopic cholecystectomy, but these tools require testing on large, diverse data sets before they can be validated. The Critical View of Safety Challenge was born from this need for data. Headed by the SAGES Artificial Intelligence Task Force, this challenge calls for surgeons to donate 1,000 videos of laparoscopic cholecystectomies. The task force will then annotate the videos and provide the information to outside experts developing AI models.
Data from SAGES will help to evaluate AI tools, and ultimately may lead to effective solutions to help surgeons assess the critical view of safety in laparoscopic cholecystectomy, Dr. Feldman said.
2. Fundamentals of Surgery 2.0
In the coming months, SAGES will launch an updated version of its 2004 Fundamentals of Laparoscopic Surgery program. The new program, called Fundamentals of Surgery 2.0, will include web-based interactive didactics, a new curriculum founded on Entrustable Professional Activities, and an updated multiple-choice examination. The virtual testing option rolled out during the COVID-19 pandemic will still be an option.
The skills exam portion of FLS 2.0 will no longer include the extracorporeal knot task, among other changes.
3. Video-Based Assessments
The SAGES Video Based Assessment (VBA) Task Force is currently setting the parameters for a pass/fail score for its first VBA for fundoplication—a score that would allow evaluation of a surgeon's performance on an operation based on a submitted video.
The fundoplication VBA tool was developed after interviewing 42 international experts and reviewing surveys from 180 surgeons about the critical procedures, steps, skills and potential errors involved in fundoplication. In addition, SAGES has partnered with the Academy for Surgical Coaching to develop a video-based peer coaching program in robotic and laparoscopic fundoplication.
The fundoplication VBA is the first of many expected from SAGES. The society is currently accepting videos from surgeons of laparoscopic cholecystectomy and inguinal hernia repair, which will help develop scoring systems for these procedures.
4. OpiVoid - Safe Pain Management
Earlier this year, SAGES launched OpiVoid, which is a website designed to help surgeons reduce opioid prescriptions while ensuring pain management for patients. The site offers handouts for patient education as well as videos and other resources on intraoperative interventions and postoperative pain management.
5. All-in-One Educational Portal
Since March, all SAGES educational offerings are available on a single portal called OWLS, short for Organization Wide Learning System.
Through OWLS, users can access online learning, including SAGES TV and the SAGES image library, from any device. Users can enroll in courses and exams; schedule, reschedule or cancel FLS, FES (Fundamentals of Endoscopic Surgery) and FUSE (Fundamental Use of Surgical Energy) exams; get certificates and transcripts; and claim CME credits.
Institutional users can also assign courses and exams to residents through the portal.
6. Access to Care and Diversity
People around the world experience unequal access to minimally invasive surgery and endoscopy, including for cancer screening. Part of the reason for this, Dr. Feldman believes, is a lack of diversity in the surgical field.
SAGES is committed to improving the diversity of the surgical workforce as a critical step in improving patient care. The society is launching a speakers' catalog that will feature a diverse group of speakers to facilitate better representation at meetings.
Disclaimer
Content may contain advertising and sponsorships. Advertisers and sponsors are responsible for ensuring that material submitted for inclusion is accurate and complies with applicable laws. We are not responsible for the illegality of any error, inaccuracy, or problem in the advertiser's or sponsor's materials.
Advertising material and/or opinions are not a reflection on Viticus Group.